Sprinkler system installations in Dallas and all North Texas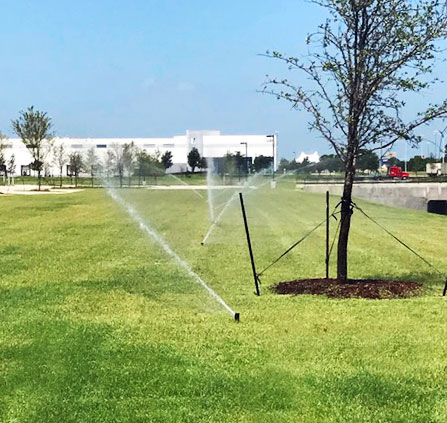 For splinker system installations in Dallas, Texas or anywhere in North Texas, Dallas Water Solutions should be on your short list. Our CAD designs and commercial-grade installations add value and beauty to your property, whether it is commercial or residential.
Benefits to installing a sprinkler system include the following:
An automated system ensures takes guess work and reliance on memory out of the equation
A well designed sprinkler system ensures that all your plants are properly watered
Reduce the risk of losing plants to over-watering or under-watering
A garden that fulfills the vision of your well-designed landscaping
Cost savings and convenience: no more hoses and sprinklers to drag around and store
Healthier lawns, trees, and flower beds
Save water (a professionally-designed automated sprinkler system can significantly reduce the amount of water lost to run-off in inferior installations)
Sprinkler system installation services
Maximize your sprinkler system investment by getting our professionals involved from the start. Our experienced landscape designers and CAD irrigation designers will evaluate your property (taking probable future growth and development into account) as they form a plan for irrigating your property.
With our decades of experience in the industry, Dallas Water Solutions is your go-to provider for cost-effective, efficient and long-term landscape irrigation. We are here to help you get your new sprinkler system up and running quickly. We'll also be here for the long run to take care of any maintenance or repair services that you might have.
Contact us today for a free quote.