Sprinkler system and irrigation system installations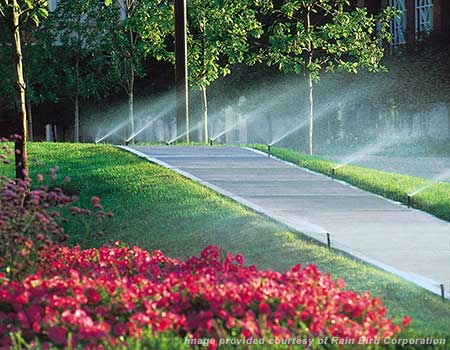 You can rely on Dallas Water Solutions for quality irrigation installation. Our sprinkler systems use commercial-grade products provided by leading manufacturers, allowing for years of maintenance free service.
The main benefits of installing an irrigation system are:
Save Time: An automated watering system, timed and adjusted for your location, means you get to spend your time on more important things!
Save Money: A professionally-designed system with timers and rain sensors puts down the right amount of water at the ideal time with little if any waste.
Save Water: An automated system puts out water at a rate and time best suited to plant growth. Quality components minimize water runoff, evaporation, and wind loss.
Increase Home's Value: Curb appeal and convenience are attractive to buyers. A quality irrigation system helps achieve both.
Home irrigation systems and commercial irrigation systems
Since much of our business is commercial, we know the best practices to insure reliable installations. All of our irrigation system heads are installed on swing pipe mounts in order to reduce head and pipe damage. If you want a system that will last for many years, partner with us.
Our guarantee
In both our irrigation installations and irrigation system repairs, we guarantee head to head coverage. This means you will have 100% overlapping coverage and we will meet all backflow prevention codes to include certification (state required).
Automatic sprinkler systems
Our sprinkler systems are fully automatic and are equipped with a remote control to provide a user-friendly sprinkler system. Not only will an automatic system make your life much easier, but it also increases the value of your property. Our CAD irrigation and landscape designers at Dallas Water Solutions will carefully analyse your garden's design as well as the plants (current status, and expected growth pattern) to make sure that sprinklers are installed in all the right places. Once your system has been installed, all you will have to do is press a button to make sure your garden gets the right amount of water.
Contact us for more information on our irrigation installation services.